| | | | | | |
| --- | --- | --- | --- | --- | --- |
| Class/Level | Barbarian 1 | Background | Sailor | | |
| Race | Cliff Dwarf | Alignment | | | |
| Age |  38 | Height | 3′ 10″ | Weight | 133lbs |
| Eyes |  Dark Green | Skin |  Deep Tan | Hair |  Black |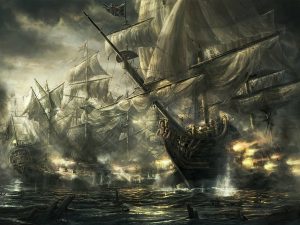 Flint,is the youngest and only male of his four siblings, from a secluded cliff dwarf clan that are masters at building iron clad ships. The clan has lived for many generations in secluded coastal cove surrounded by steep cliffs. The Lutgehr clan has always been a ship building clan first building wooden tall ships than developing and mastering the process of building iron clad ships that both use traditional sails and iron masts, as well mechanical powered ships that require no sails or masts. The clan would train their children from the time that the would be able to walk, talk and hold tools to become master crafts man and woman. The young boys and girls from a young age would travel and be part of the crew on the ships as well be part of the ship building process even if it was just to fetching materials or tools for the master crafts man and woman building the ships. Each ship that the clan would build is a custom one of a kind ship built to the owners specific specifications and needs.
During many of the long sea trials of a ship or the voyages too deliver the finished ship to the owner who commissioned the ship to be built, Flint would go with his father Rurik who was the ships navigator and Grandfather Oskar the ships engineer or designer. While on the sea trials or the delivery trek Flint would wrestle with his father and grandfather as well the crew and children that where on board the ship to help combat cabin fever.  Many of the Flint's wrestling though on the ship and in the dry docks have been started by Flint's lack of thinking his words through before he speaks and ends up insulting his fellow crew mates and clans men.
While not at sea Flint's grandfather and father would spend time teaching Flint about metal smithing and metal working. When there was not a ship in the dry dock to be worked  Flint would spend his time wrestling or help his Mother Hlin  a master seamstress and weaver or his older sisters Vistra who also is master weaver, Gurdis a glass blower and Artin a master leather worker.
While on a on one the treks two years earlier too deliver the ship "Katernin" to the owner, while in the open ocean when the pirate Sedrick Bonesly had spotted the iron clad ship from a distance off and attempted to capture and take the ship for their own during the combat Flint's grandfather Oskar was struck by a harpoon and killed instantly.  Through the valiant  efforts of the crew they where able to disable the pirate ship and escape without any further casualties.  Flint seeks to avenge the death of his beloved Grandfather Oskar! and would do anything in his power to bring Sedrick Bonesly to justice and death…
During one of the recent ship deliveries Flint got a message from a long time friend and alchemist that they need to meet in Daggerford as he has some exciting news about a new metal recipe that he has developed that the Lutgehr clan would be interested in as it has some amazing properties that makes it lighter and stronger than iron.  With that news Flint heads to Waterdeep as he has caught wind that a caravan was heading to Daggerford and would be willing to assist the caravan on their ventures and knows that the road between Waterdeep and Daggerford is plagued with bandits, thieves and scoundrels. With Flint's smiting abilities would be able to do repairs to the cart and so forth.